MedFlight to fly into new troy facility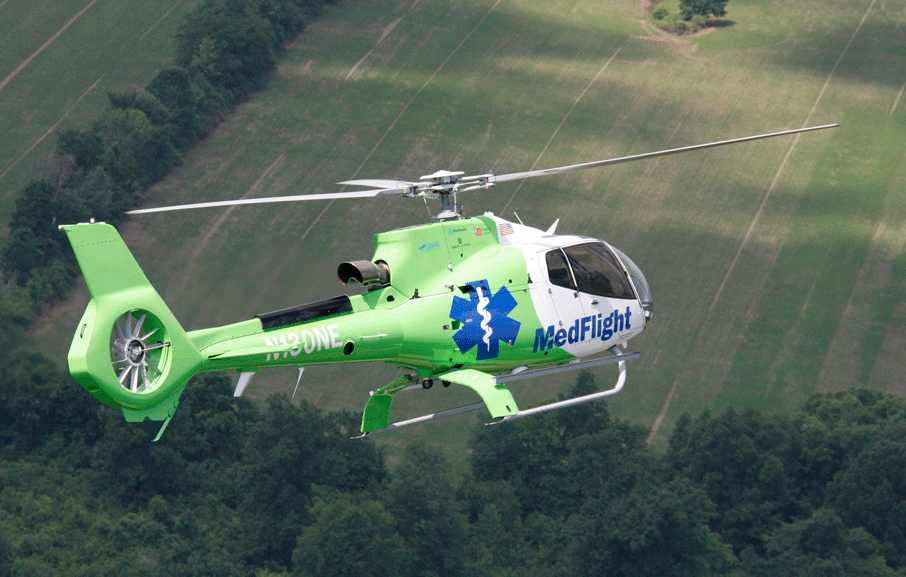 August 23, 2018
Source: Daily Call
Visitors to Troy have been watching the progress as the new Kettering hospital Troy location has been rising from the former Hobart property at the corners of West Main, Elm, and Water streets.
As construction progresses, Kettering Health Network is excited to let residents know of some of the services that will be available at the new facility.
One of those services will be closer access to emergency helicopter trauma care than is currently available from Kettering.
MedFlight currently is available to Miami County EMS agencies, but the new Troy hospital will put another emergency room in Miami County, allowing patients another option for urgent critical care.
While MedFlight is relatively new to the area, they are long on service and experience. "MedFlight was formed by a merger between Ohio State University Sky Med and Grant LifeFlight back in 1995," said Flight Paramedic Joel Jackson. "Along with the helicopter merger, MedFlight also began offering ground transport."
MedFlight is now a statewide operation with eleven aircraft — nine in-service aircraft along with two back-up helicopters. They are owned by The Ohio State University, Ohio Health and are partners with Kettering Health Network.
MedFlight flight nurses said that they are excited to become a resource for the residents of Troy and Miami County. While helicopter medical service is mainly to Kettering affiliates, the non-profit program promises to do what is best for the patient in every situation.
"That really speaks to the way Kettering operates," said Flight Nurse/Paramedic Kameron Carter. "They provide services for the patients in the places they need to be."
Kettering EMS Coordinator Tony Alexander discussed the outreach opportunities that Kettering will bring with them. MedFlight personnel will assist area fire departments in their continuing education and maintaining certifications.
"We are a whole lot more than just a medical helicopter," said Alexander. "We want to be an active part in the community."
While the opening of the Kettering Hospital Troy facility is projected to be a year from completion, Miami County residents can expect to see a growing presence from Kettering Health Network and some of their most visible public relations ambassadors — the helicopters and crews from MedFlight.
St. Vincent HELP Flight celebrates 40 years of care in Montana June 13, 2019 Source: KTVQ Online HELP Flight celebrates this month its 40th anniversary of responding to emergencies in south-central Montana. The air ambulance service run out of St. Vincent Healthcare...
Metro Aviation is constantly growing our capabilities and expanding our reach. Metro holds more than 30 Supplemental type Certificates (STC) and completes about 35 aircraft each year for U.S. customers anf global clients.