UT Health East Texas Air 1 reveals new helicopter design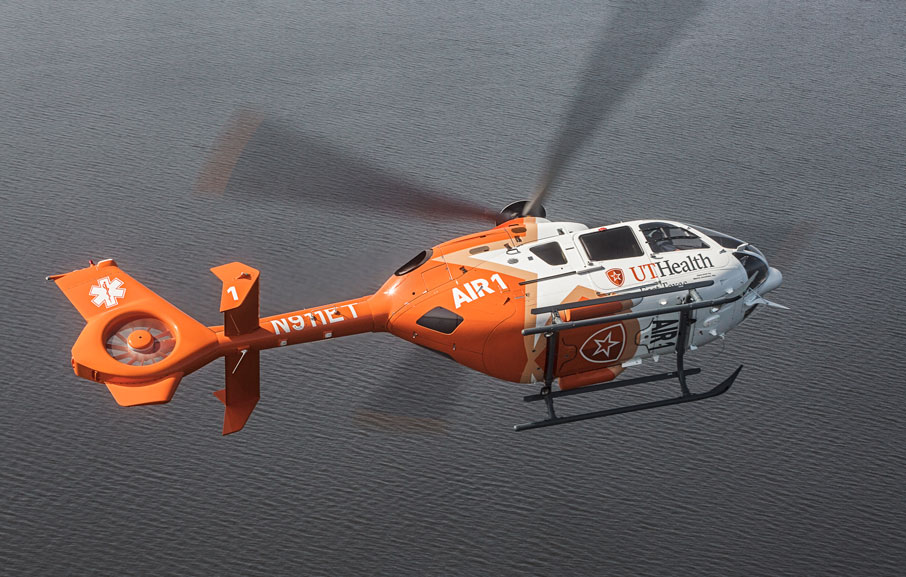 July 24, 2018
Source: UT Health East Texas
UT Health East Texas Air 1 revealed their new helicopter design and uniforms today, during a celebration at UT Health Tyler, along with new state-of-the-art technology that enables flight paramedics to transmit patient data to the hospital and a safety tracking system.
"The Outerlink Iris System is a next generation satellite communications system that will enable our operations center in Shreveport, Louisiana, to keep a pulse on what is happening in the cockpit and alert our pilots to any warnings or help them perform any system checks," said John Smith, CEO of UT Health East Texas EMS/Air 1. "We are proud to have a 33-year history of providing safe flights to patients in East Texas."
In addition, the system allows paramedics to use Wi-Fi to transmit vital data such as EKGs back to the hospital. "This technology is especially helpful with stroke or heart attack patients, so the physicians can start planning the next course of action," said Smith. "The system is HIPAA compliant, ensuring patient privacy is protected."
"We are excited to add this technology to our helicopters as we rebrand them with the new UT Health East Texas Air 1 logo and colors," said Moody Chisholm, president and CEO of UT Health East Texas.
UT Health East Texas Air 1 is an important part of our emergency system ensuring critical patients arrive quickly at UT Health Tyler's Level 1 Trauma Center; within the 'golden hour,' significantly improving their chances for recovery. The rebranding of our helicopters and flight team uniforms under UT Health East Texas is exciting. We want people to recognize UT Health East Texas and our continuing commitment to serving the region."
UT Health East Texas Air 1 (formerly ETMC) began providing emergency helicopter service in 1985. UT Health East Texas Air 1 has three, EC-135 helicopters stationed in Athens, Henderson and Pittsburg to cover the East Texas region more efficiently. Most transports in the Tyler area come to UT Health Tyler's Level 1 Trauma Center by ground ambulance.
UT Health East Texas Air1 employs 16 flight nurses and 13 flight paramedics.
"Our company is very proud of the high standards of excellence we provide in East Texas," said Smith. "UT Health East Texas Air 1 is accredited by the Commission on Accreditation of Air Medical Transport Services."
UT Health East Texas Air 1 partners with Metro Aviation, Inc., a pioneer and leader in the air ambulance industry to provide emergency helicopter service.
St. Vincent HELP Flight celebrates 40 years of care in Montana June 13, 2019 Source: KTVQ Online HELP Flight celebrates this month its 40th anniversary of responding to emergencies in south-central Montana. The air ambulance service run out of St. Vincent Healthcare...
Metro Aviation is constantly growing our capabilities and expanding our reach. Metro holds more than 30 Supplemental type Certificates (STC) and completes about 35 aircraft each year for U.S. customers anf global clients.